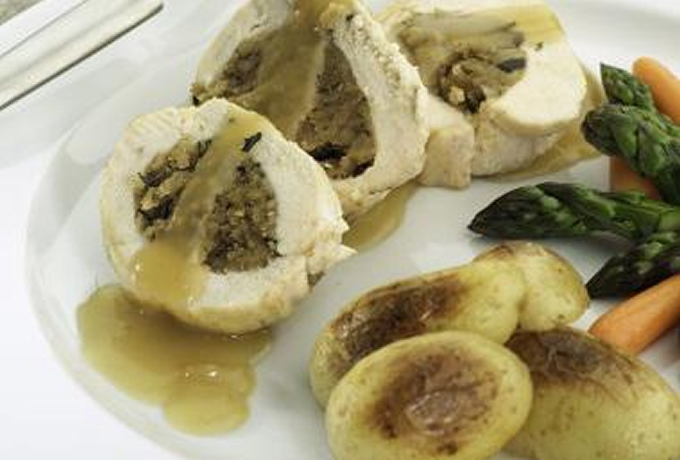 Chicken Roast & Savory Stuffing
2015-11-25 14:32:14
Serves 4
The traditional flavours of a stuffed roast chicken are all here, but this recipe is both easier to prepare and looks more elegant to serve. Perfect for 4 but easy to double for a larger dinner party, this dish is ideal for both casual weekend suppers and special occasions.
Nutrition Facts
Amount Per Serving
* Percent Daily Values are based on a 2,000 calorie diet. Your Daily Values may be higher or lower depending on your calorie needs.
Ingredients
4 boneless, skinless chicken breast(s), filets removed
2 tbsp 30 mL vegetable oil
salt, to taste
pepper, to taste
1/4 cup 60 mL butter
1/4 cup 60 mL onion(s), minced
1/4 cup 60 mL celery, minced
2 tbsp 30 mL savory, fresh or
2 tsp 10 mL savory, dried
1 cup 250 mL breadcrumbs
1/4 cup 60 mL chicken broth
Instructions
1. Preheat oven to 350°F (180°C).
2. Melt butter in a saucepan over medium heat; add onion, celery and savory. Cook until tender. Remove from heat and stir in crumbs until well mixed. Stir in chicken broth. Stuffing should be moist enough to shape into 2 logs.
3. Put chicken breasts between layers of wax paper and pound to about ½ inch (1 cm) thickness. Season chicken with salt and pepper and place, smooth side down, on a cutting board.
4. Place 1 stuffing log down the middle of one chicken breast. Place a second chicken breast, smooth side up, on top of the stuffing. Tie breasts together securely with string so the stuffing is sandwiched in between. Repeat with the remaining two breasts. These are called chicken breast roasts and each roast serves two.
5. Heat oil in a skillet over medium heat and brown the roasts on all sides. Place on a baking sheet and bake for about 45 minutes or until a thermometer inserted into the chicken (not the stuffing) reads 165°F (74°C).
6. To serve, remove string and slice each roast in six. Serve with roasted potatoes.
Chicken Farmers of Nova Scotia http://nschicken.com/