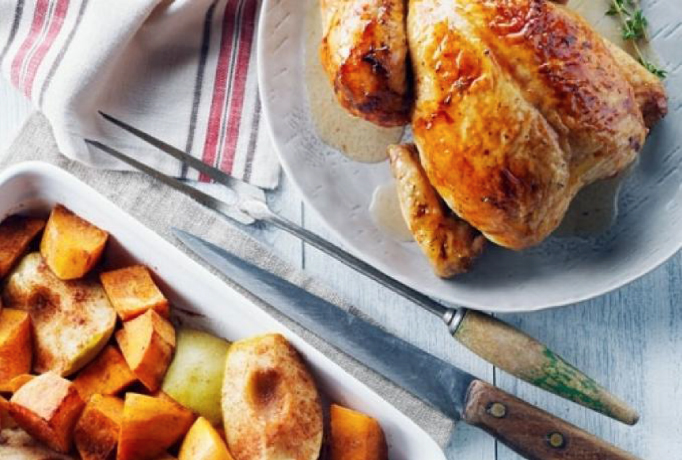 Roast Chicken with Sweet Potato & Apple Bake
2015-11-25 14:50:38
Serves 8
Nutrition Facts
Amount Per Serving
* Percent Daily Values are based on a 2,000 calorie diet. Your Daily Values may be higher or lower depending on your calorie needs.
Ingredients
5 lb 2.3 kg Roasting chicken
1/2 tsp 2 mL salt
1/2 tsp 2 mL pepper
1/2 tsp 2 mL thyme, dried
2 2 sweet potatoes, large, peeled and cubed
2 2 green apples, firm, cored and quartered
1 tbsp 15 mL brown sugar
1/4 tsp 1 mL ginger, ground
1/4 tsp 1 mL cinnamon
1 tbsp 15 mL butter
2 - 3 tbsp 30 mL all-purpose flour
1/4 cup 50 mL water
1/4 cup 50 mL apple jelly
1 1/4 cup 315 mL apple juice
Instructions
1. Remove chicken giblets and neck; use to make stock if desired. Sprinkle half salt, pepper and thyme over chicken.
2. Place chicken breast-side-up on rack in roasting pan. Roast in 400°F (200°C) oven for 30 minutes. Reduce heat to 350°F (180°C), cover chicken loosely with foil and continue roasting about 45 minutes.
3. In a large casserole, combine sweet potatoes, apples, brown sugar, ginger and cinnamon; dot with butter. Cover tightly, place in oven with chicken, and continue cooking for about 45 minutes.
4. In saucepan, melt apple jelly. During last 20 minutes of chicken roasting time, remove foil and brush chicken with jelly. Continue basting chicken with pan juices until nicely glazed and chicken is cooked. Chicken is cooked when internal temperature reaches 185°F (85°C) or until juices run clear and fork can be inserted in chicken with ease. Remove chicken, place on large platter and keep warm.
5. Remove excess fat from pan juices. Stir in remaining salt, pepper, thyme and apple juice. Combine flour and water, add juice mixture and cook until thickened.
6. Spoon sweet potato-apple mixture around chicken and serve with apple gravy.
Chicken Farmers of Nova Scotia http://nschicken.com/