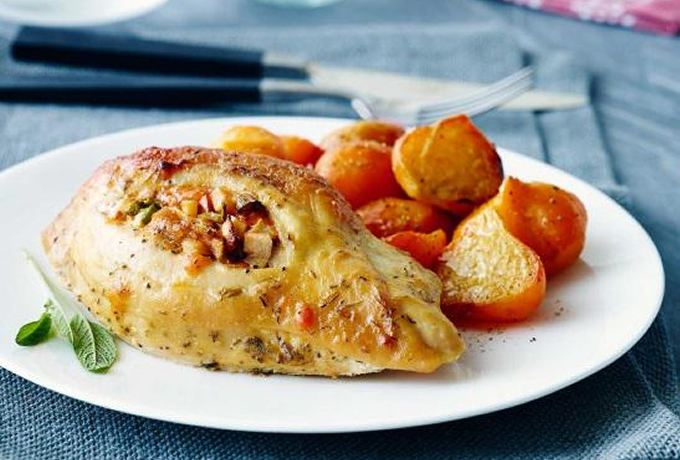 Maple Glazed Chicken with Cheddar Apple Stuffing
2015-11-25 14:42:13
Serves 4
Nutrition Facts
Amount Per Serving
* Percent Daily Values are based on a 2,000 calorie diet. Your Daily Values may be higher or lower depending on your calorie needs.
Ingredients
4 chicken breasts, skin-on and bone-in
1 small apple, peeled and cored
1 green onion, finely chopped
1 tbsp 15 mL each of Dijon, melted butter and maple syrup
3 tsp 15 mL dried leaf sage
1 tsp 5 mL dried leaf thyme
1 cup 250 mL packed grated old cheddar cheese or
1/2 cup 125 mL crumbled creamy goat's cheese
Instructions
1. Make a pocket in chicken breasts for the stuffing. Working with one breast at a time, form a pocket in the thickest side by making a horizontal cut about 2 ½ inches (6 cm) long and 1 ½ inches (4 cm) deep. Preheat oven to 375°F (190°C).
2. Finely chop apple and place ½ cup (125 mL) in a bowl. Sprinkle with sage and onion. Work between your hands to evenly mix. Sprinkle in cheese and stir to mix.
3. Gather up about a 1/3 cup (100 mL) apple mixture and press together. Gently open the pocket in one chicken breast and stuff in cheese mixture, pushing as close to center of breast as possible. Add more if you can. Wet inside edges of opening and press down to seal. Set on a baking sheet with shallow sides. Repeat with remaining chicken and stuffing. Pressing the opening side of the chicken against the side of the baking sheet will help hold the stuffing in.
4. Stir Dijon with melted butter, maple syrup, thyme and salt. Brush a little over chicken. Loosely cover chicken with a tent of foil. Roast at 375°F (190°C) for 30 minutes. Brush again with Dijon mixture. Continue roasting, uncovered, this time until chicken feels springy when tapped, from 15 to 25 more minutes. If chicken gets beautifully brown before it is cooked through, lay foil pieces loosely overtop the brown areas.
Chicken Farmers of Nova Scotia http://nschicken.com/