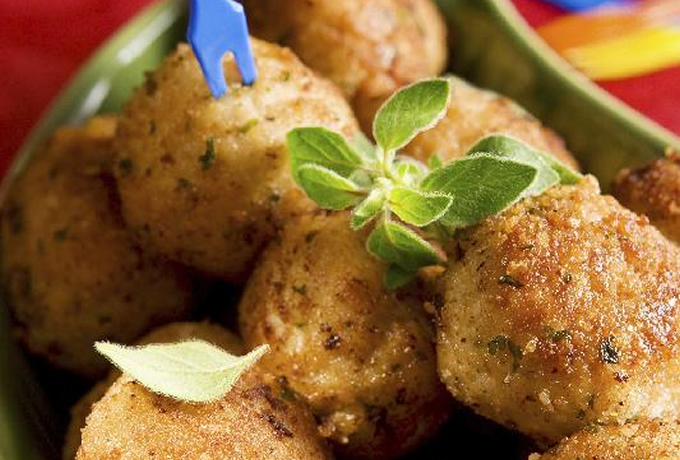 Chicken Meatball Appetizers
2015-11-25 12:21:50
Serves 48
These Italian-spiced meatballs are perfect served with marinara sauce at a cocktail party, or added to tomato sauce for spaghetti and meatballs.
Nutrition Facts
Amount Per Serving
* Percent Daily Values are based on a 2,000 calorie diet. Your Daily Values may be higher or lower depending on your calorie needs.
Ingredients
1 lb 450 g ground chicken
2 egg(s), large, beaten
1 cup 250 mL seasoned breadcrumbs
2 Tbsp 30 mL Romano cheese, grated
2 Tbsp 30 mL parsley, fresh, minced
1 Tbsp + 1 tsp 15 mL + 5 mL basil, fresh, minced
2 tsp 10 mL oregano, dried
2 cloves 2 cloves garlic, minced
1/4 tsp 1.25 mL pepper
1/2 lb 225 g Provolone cheese, cut into 48 small cubes
2 Tbsp 30 mL olive oil
Instructions
1. Preheat oven to 375°F (190°C).
2. In bowl, combine ground chicken, eggs,1/2 cup (125 mL) of bread crumbs, romano cheese, parsley, basil, oregano, garlic and pepper.
3 Form 48 meatballs from this mixture.
4. Insert one of the small cubes of Provolone cheese into each meatball and then reshape ground chicken to cover cheese.
5. Grease baking sheet with the 2 Tbsp of oil.
6. Place remaining bread crumbs in bowl. Coat each meatball with bread crumbs and place on baking sheet.
7. Bake in oven until the meatballs are fully cooked, about 40 minutes. Meatballs should reach an internal temperature of 165°F (74°C). Remove from tray and serve with your favourite tomato sauce.
Chicken Farmers of Nova Scotia http://nschicken.com/