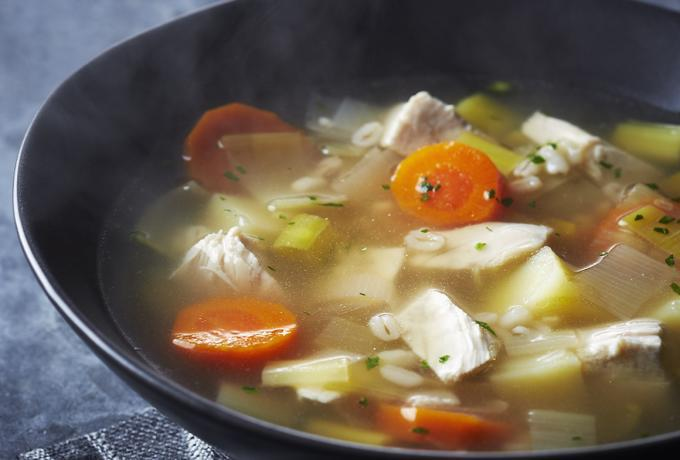 Chicken and Leek Soup
2015-11-25 12:17:05
Serves 15
Nutrition Facts
Amount Per Serving
* Percent Daily Values are based on a 2,000 calorie diet. Your Daily Values may be higher or lower depending on your calorie needs.
Ingredients
1 tbsp 15 mL butter
1 tbsp 15 mL olive oil
3 3 leeks, sliced
2 cloves 2 cloves garlic, minced
3 3 carrots, medium, sliced
3 3 potatoes, with skin, diced
3 cups 750 mL chicken breast(s), cooked, diced
1/2 cup 125 mL barley, dry
14 cups 3.5 L low-sodium chicken broth
2 2 bay leaves
1 tbsp 15 mL thyme, fresh
1 tsp 5 mL thyme, dried
1/4 tsp 1 mL black pepper, freshly ground
1 tsp 5 mL brown sugar
1/2 tsp 2 mL salt, (optional)
1/2 cup 125 mL parsley, fresh, chopped, for garnish
Instructions
1. Heat butter and olive oil over medium-low heat in a deep soup pot.
2. Remove tough green ends of leeks. Split in half and run under cold water to remove any dirt residue. Slice white and tender green portion into ½ inch (1.25 cm) half moons. Add to soup pot with the minced garlic. Increase heat to medium high. Stir and sauté for 5 minutes.
3. Peel and slice the carrots into rounds. Dice the potato. As long as they are scrubbed it isn't necessary to peel the carrots or potatoes. Stir into the soup pot and continue to sauté while stirring.
4. Dice the cooked chicken. Add to pot with the barley, chicken broth, thyme leaves, bay leaves and freshly ground black pepper. Bring to a boil, cover and simmer for 30 minutes or until barley is tender.
5. Stir in brown sugar. Taste and add salt if needed. How much salt you need depends on the saltiness of the broth. Remove bay leaves.
6. To serve garnish with fresh chopped parsley (optional garnish).
7. The soup ingredients can be cut in half to make a smaller batch but note that the soup also freezes well.
Chicken Farmers of Nova Scotia http://nschicken.com/