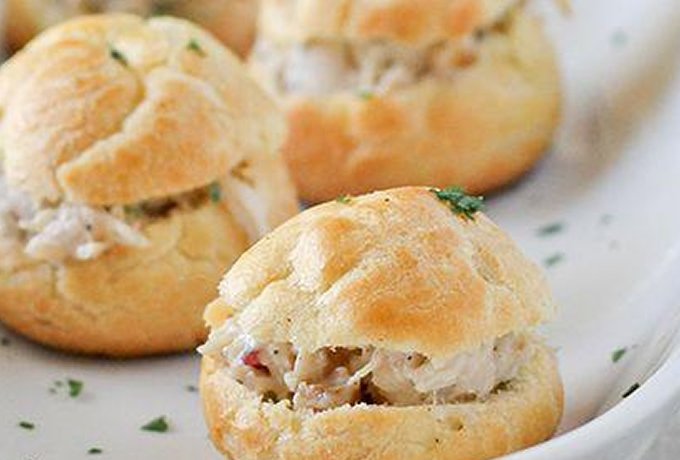 Chicken Salad Puffs
2015-11-25 14:27:01
Nutrition Facts
Amount Per Serving
* Percent Daily Values are based on a 2,000 calorie diet. Your Daily Values may be higher or lower depending on your calorie needs.
Ingredients
1 sheet Puff Pastry
2 tbsp 30 mL butter
1 tsp 5 mL kosher salt
3 chicken breasts (3 cups chopped)
salt and pepper
½ cup 125 mL celery, finely chopped
½ cup 125 mL red grapes, quartered
1 tbsp 15 mL onion, minced
½ - ¾ cup 125-180 mL mayonnaise
½ tsp 2.5 mL kosher salt
½ tsp 2.5 mL Creole Seasoning
Instructions
1. Unfold the pastry sheet.
2. With a pizza slicer, cut the sheets along the fold lines into 3 strips.
3. Cut each strip in half horizontally. Then, cut the strips to make 12 squares. One pastry sheet will yield 36 squares.
4. Place on a parchment-lined baking sheet. Brush with melted butter and sprinkle with salt.
5. Bake at 400 degrees for 12-14 minutes.
6. Once cooled, cut each square in half.
7. Season 3 chicken breasts with salt and pepper and grill. Allow to cool and chop.
8. In a mixing bowl, combine the cooked chicken, celery, grapes, onion, mayo, salt and creole seasoning.
9. Spoon chicken salad onto the bottom half of the cooked pastry square and assemble to make a sandwich.
10. Secure with a fancy toothpick and arrange on a platter.
Chicken Farmers of Nova Scotia http://nschicken.com/