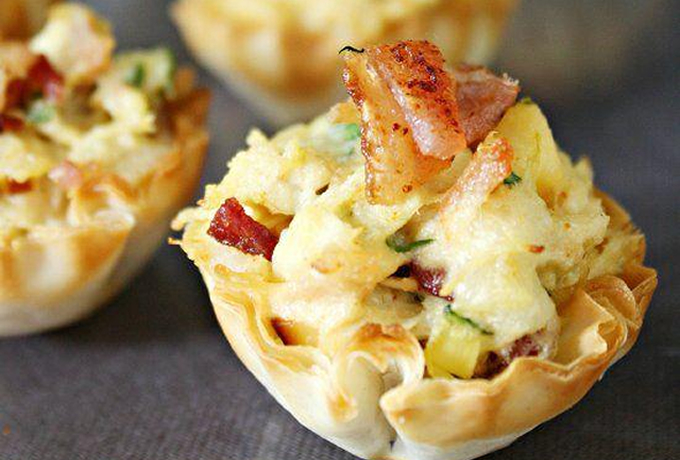 Chicken Artichoke Bites
2015-11-25 14:22:47
Looking for easy appetizer recipes that can be made ahead of time? Chicken Artichoke Bites are the one bite appetizer recipe you've been waiting for!
Nutrition Facts
Amount Per Serving
* Percent Daily Values are based on a 2,000 calorie diet. Your Daily Values may be higher or lower depending on your calorie needs.
Ingredients
1 cup 250 mL chicken, cooked and shredded
6 strips of bacon, cooked and chopped (set aside 3 for topping)
7 oz. quartered artichoke hearts, drained and chopped
1/2 cup 125 mL fresh spinach chopped
1/4 cup 60 mL mayonnaise
2 oz. cream cheese, softened
1 cup 250 mL smoked Gouda, shredded
1/2 cup 125 mL Havarti, shredded
1 clove garlic, minced
1/2 tsp 2.5 mL onion powder
pinch pinch cayenne pepper
salt & pepper to taste
Instructions
1. Preheat to 350F
2. Boil chicken until cooked through.
3. Shred chicken in mixer with bread hook.
4. Add softened cream cheese to chicken and mix thoroughly.
5. Add all remaining ingredients, mix thoroughly
6. Fill each phyllo cup with the chicken mixture (about 2 teaspoons).
7. Bake for 5-8 minutes.
Notes
If you are making this the day before do not stuff the phyllo cups ahead of time. Cover the chicken mixture and place it in the refrigerator until needed. If you want to make all of it in advance you can stuff the phyllo cups and freeze them with the mixture in them. When you are ready to serve bake them for slightly longer (10-15 minutes).
Chicken Farmers of Nova Scotia http://nschicken.com/