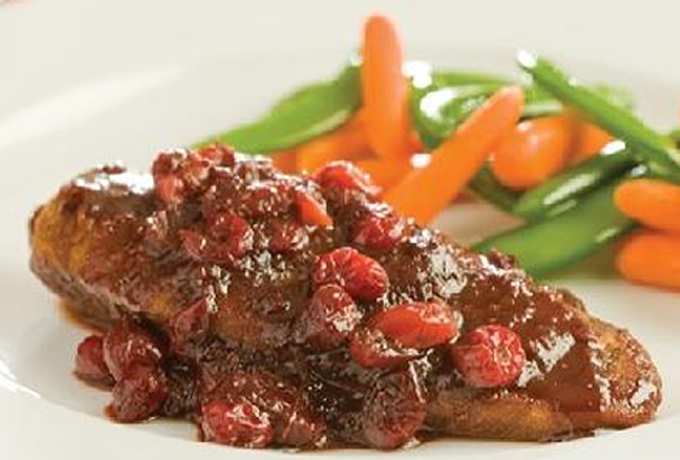 Cranberry Ginger Chicken Breasts
2015-11-24 20:01:36
Serves 4
Smoky flavours such as cumin pair very well with the tartness of whole cranberries. Serve with roughly mashed potatoes or root vegetables for an easy fall meal.
Nutrition Facts
Amount Per Serving
* Percent Daily Values are based on a 2,000 calorie diet. Your Daily Values may be higher or lower depending on your calorie needs.
Ingredients
4 boneless, skinless chicken breasts
1/4 tsp 1.25 mL cayenne pepper
1 Tbsp 15 mL coriander, ground
1 Tbsp 15 mL cumin, ground
1 Tbsp 15 mL mustard powder
1 Tbsp 15 mL olive oil
1/4 cup 60 mL ginger, fresh, minced
2 cups 500 mL cranberries, fresh or frozen
1/2 cup 125 mL barbecue sauce
1 cup 250 mL dry red wine
1/4 cup 60 mL brown sugar
1/4 cup 60 mL almonds, unsalted, sliced
Instructions
1. Combine first four spice ingredients in a small bowl. Coat chicken breasts with spice mixture.
2. Heat oil over medium-high heat in a non-stick skillet. Add grated fresh ginger and chicken and brown on all sides. Remove chicken from pan and keep warm.
3. Pour red wine into hot skillet and scrape up any brown bits from bottom of pan. Add cranberries, barbecue sauce and brown sugar with any remaining spice mix. Cover pan and cook on medium heat until cranberries pop and mixture starts to thicken.
4. Return chicken breasts to skillet. Cover with sauce and cook in the covered skillet a further 15 minutes until chicken is thoroughly cooked, juices run clear and the internal temperature of each chicken breast reaches 165°F (74°C).
5. Lightly toast almonds by spreading them on a plate and microwaving on high for 2 minutes. Just before serving sprinkle chicken breasts with toasted sliced almonds.
Notes
A 375 g bag of cranberries yields 750 mL - freeze the remaining 250 mL for later use.
Chicken Farmers of Nova Scotia http://nschicken.com/